On Tuesday 14th May from 13.00-15.30, we are delighted to be hosting our first ever Graduate Workshop. This completely FREE event will take place at Nettl of Birmingham on Great Charles Street Queensway. We'll show you how to make a successful application for your dream grad job and take your first steps into a challenging, exciting and rewarding career. We'll also be serving a fantastic selection of cakes. Our workshop will focus on the following areas: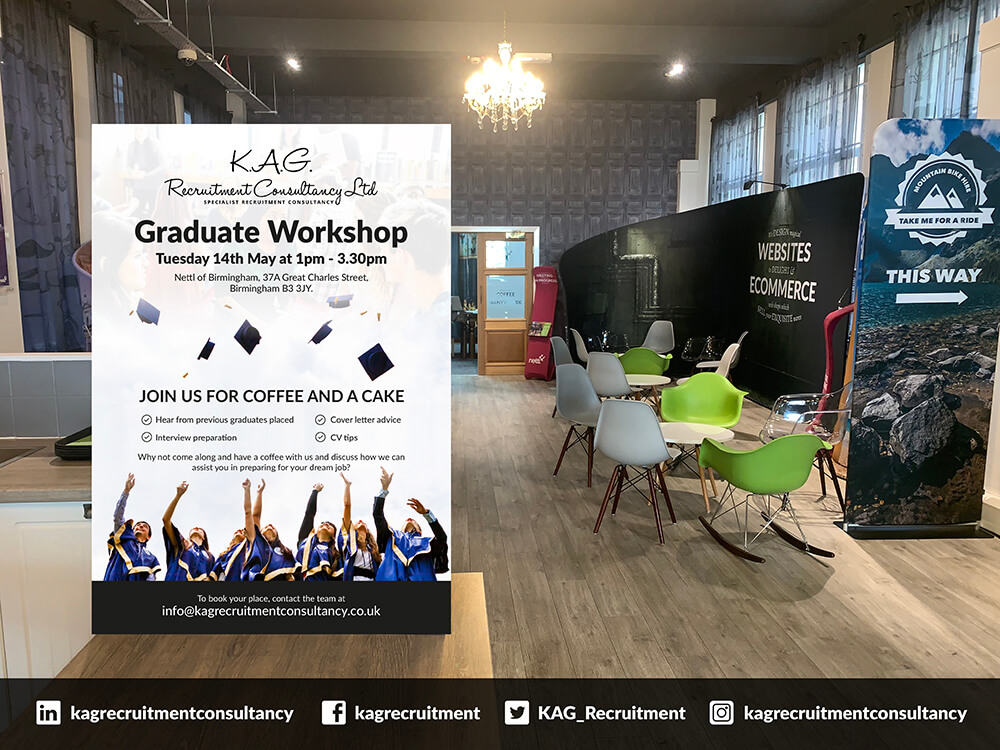 Preparing Your CV
Tailor it to the job you're applying for – Hundreds of grads are applying for the same graduate training programme as you are. That means that your CV has to stand out by detailing why you've got exactly the right combination of skills for that business, the passion to drive great results while you're working there, and a sufficient understanding of and appreciation for the way they do business to fit into their office culture seamlessly. Our workshop will show you how to fit all of that onto a page of A4.
Presentation – You need to make it as easy as possible for recruiters to see why you would be a perfect fit for the role they're looking to fill. If your application doesn't catch their eye within a few seconds of looking at it, they may well not read the whole of it. Put your achievements in bullet-points at the top of your CV, in bright colours, don't leave mention of your transferable skills to the very end, and make sure that you proofread your application for spelling mistakes before sending it off. We'll teach you techniques for doing all of these things, so that you'll always incorporate them into your CV writing.
Cover Letter
Get to the point – Your cover letter is your opportunity to tell employers about yourself. What makes you special? Why is your personality a perfect fit for their team? What will you add to their office environment? Ultimately, employers want to know if you will fit into their team quickly and work with everyone else seamlessly to deliver great results. Address these points in each paragraph of your cover letter to make it stand out from everybody else's.
Use formal language – You're applying for a job, so you need to write as formally as possible. We will show you how to make sure that you've dotted the Is and crossed the Ts.
Interview Preparation
Stay calm – We'll show you how to stay calm in interviews, so that nerves don't turn up uninvited and spoil your big moment.
Answer the question – Sometimes it can be tempting to tell employers your whole life story in interviews. They're probably not that interested in the winning goal you scored to help your team win that hockey match in P.E. when you were 10. Employers want to know what life skills moments like this gave you, and how you'll use these skills to make them more money than other applicants would be able to, if they gave the job to you instead of them.
Believe In Yourself – Our workshop will give you the confidence you need to smash your interview and make employers regret having to spend the rest of their day interviewing other applicants after you've left.
Posting The Right Things On Social Media
When it comes to job applications, social media can be a gift and a curse. Here are some do's and don'ts on these networks.
Do
Follow companies you're applying to and like, share and comment positively on their posts.
Recommend the company to your friends.
Publish positive posts that make everyone's day a bit better.
Connect with recruiters.
Don't
Make any posts detailing drunken student antics public. Recruiters and employers will find them and these posts could cost you a job offer. Don't make anything on social media that you wouldn't be happy for your family to see public.
Publish anything negative about any businesses you've applied to in posts or comments. These posts and comments look highly unprofessional and will burn your bridges. The last thing you want to do his lose the possibility of a dream job offer, after a moment of silliness on social media.
Use obscene language in posts. Imagine if you spoke like that to a client. That's exactly what recruiters will be thinking if they see these posts on your timeline.
Grab the last few tickets for our Grad Workshop while they're still available, to give yourself the best possible chance of securing your dream job and get answers to the questions that you've always wanted to ask about how the graduate job market works.
Better still, by booking onto our Grad Workshop, liking our FB page, and then sharing one of our posts about the great competition we're running, you could win a £25 restaurant choice voucher, to enjoy a great meal with your mates at your favourite restaurant.